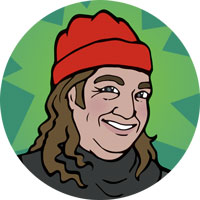 Diver Ed
Graduate of College of the Atlantic, commercial dive and scuba instructor, former Bar Harbor harbormaster, and Smithsonian marine ecologist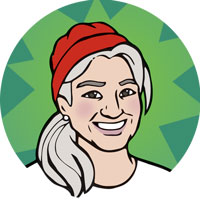 Captain Evil
Diver Ed's wife, child psychologist, boat captain, and naturalist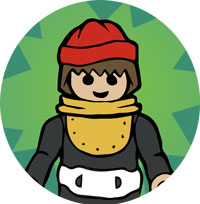 Mini Ed
Diver Ed's sidekick, a 3-inch tall Playmobil hard hat diver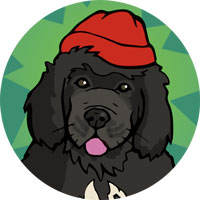 Nori
Purebred water-rescue Newfoundland and beloved dog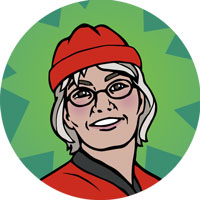 El Squid
Captain Evil's sweet sister and reservation agent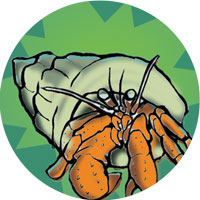 Creatures
Hermit crabs, starfish, sea urchins, sea peaches, and all their friends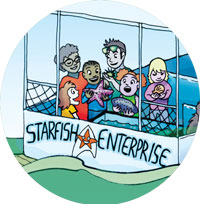 Starfish Enterprise
A very stable 51-foot, 70-passenger U.S. Coast Guard certified vessel purpose-built by Diver Ed and Captain Evil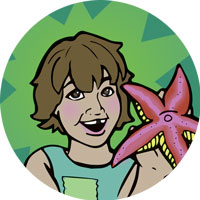 You!
From anywhere to Maine and ready for adventure
and a supporting cast...
Bilge Rat El Squid's charming daughter and reservation agent
League of Underwater Superheroes Diver Ed's local club for diving adventures
The Starfish Enterprise is a very stable 51‑foot, 70‑passenger U.S. Coast Guard certified vessel specifically built, as a theater, for the Dive‑in Theater by Diver Ed and Captain Evil. The boat is equipped with a 75" LED monitor to show you the picture from Diver Ed's live-stream video camera and high-end audio equipment to heard Diver Ed from the bottom of the sea.
Faster than a speeding starfish, able to leap (onto) lobster boats in a single bound, members of The League of Underwater Superheroes stand ready to explore the depths, clean up the underwater landscape, and have a whole lot of fun. The "league" is actually a scuba diving club, the brainchild of Eddie "Diver Ed" Monat. Yes, that's scuba diving. In Maine.

Most of the inaugural league members were Diver Ed's students. "It's just an excuse to pull people together who want to dive," he says. Unlike many scuba clubs, there's no fee to join the League. Volunteer work is standard operating procedure for a member of the League of Underwater Superheroes. Every year the League performs a harbor cleanup. They have also helped with the Eel Grass Project sponsored by the MDI Biolab. More info